Here at Die Hard Dice we are fanatically dedicated to our customers. We only sell products we would be proud to show off at game night. If you're unhappy with your purchase in any way, we'll do anything we can to fix it or give you all your money back, your choice.
SHIPPING
• We do our best to ship orders within 1 business day.
• Shipped by USPS with tracking numbers
• Free shipping in USA for orders over $30

Beautiful & almost perfect
Gorgeous set with a wonderful feel. Love the way they roll. Only reason it isn't a 5 star review is because the 6 on the d8 is not painted.
Beautiful dice!
Very satisfied with these dice. They are pleasantly lightweight and I love the styling, from the squared-off corners to the unique font. The swirl color is vivid and suits the inked numbers nicely. Glad to add these to my collection.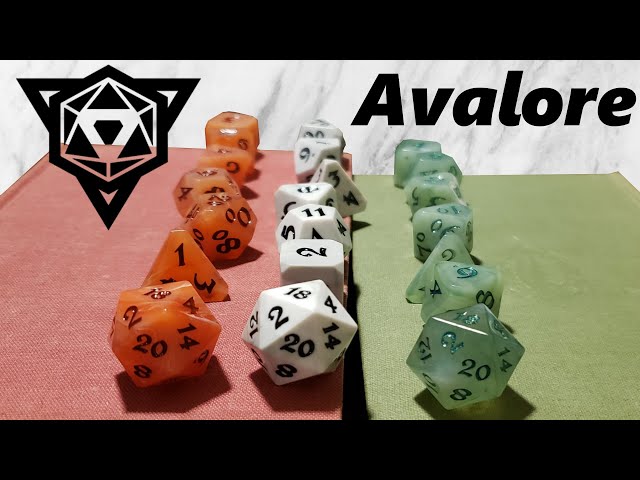 Excellent Dice
I purchased the Elessia - Worldbuilders, Elessia - Wilderun with Gold, and Avalore - Talisman Holly dice sets. They roll really well and the numbering on each of them is bold and easy to read.
Beautiful dice
These were purchased as a Christmas gift for a nibling and are even prettier in person! I own other Avalore sets and they're all wonderful. They're quality dice, they roll well, and they're beautiful.
I´m in love!
The Avalore style and slightly larger sizing make these dice very unique, but aren´t to much too be unhandy! Probably some of the prettiest dice I´ve ever seen, the color is gorgeus! <3