Trying to choose the best dice for you? We hope this little tour will help.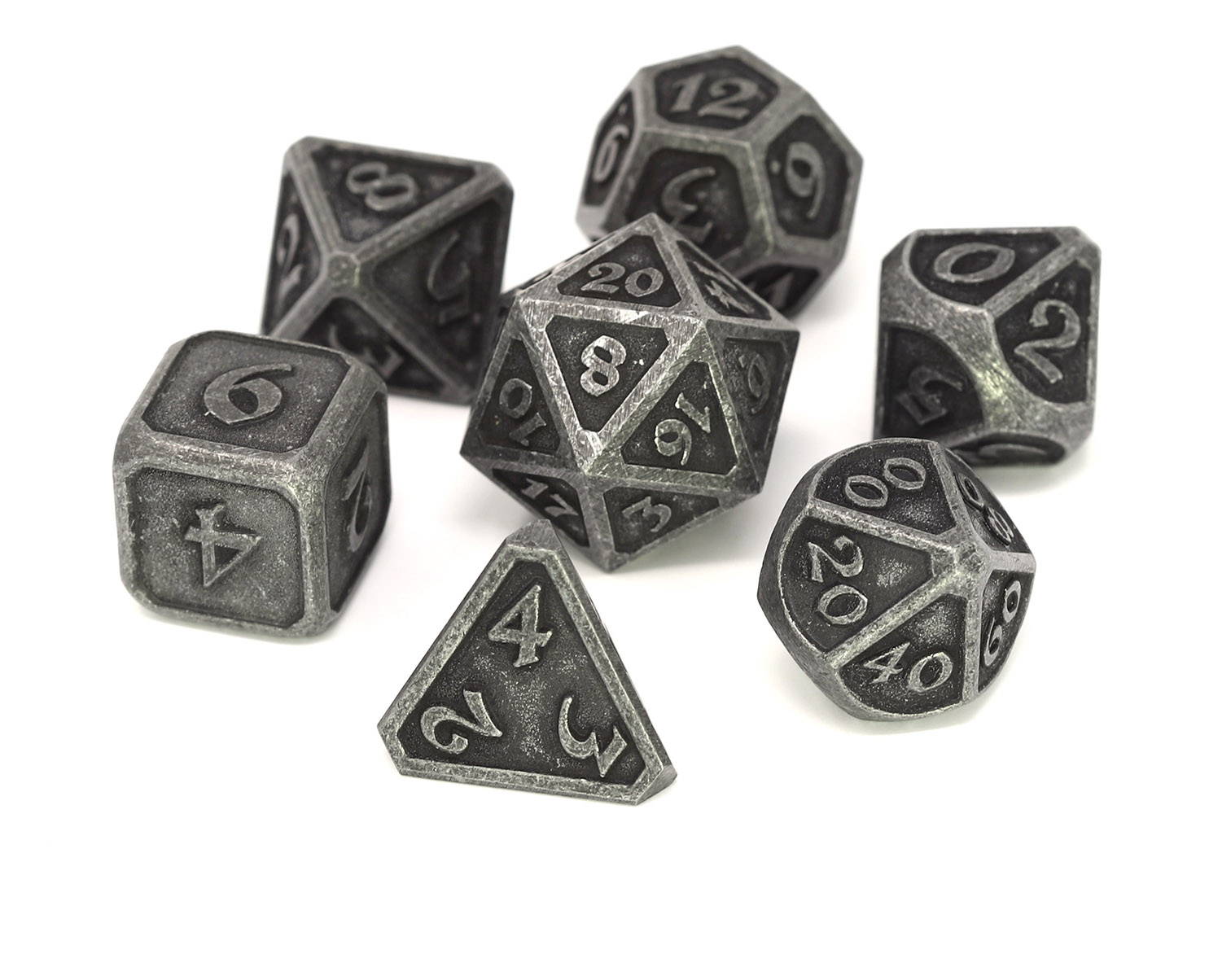 Metal dice are typically 4 to 5 times heavier than plastic dice. They feel substantial and rolling them from your hand is very satisfying. Because of their added weight, they roll around less once they hit the table, which makes them feel like they have their own special gravity.
Without their tins, foams, or bags:
Our Classic (M1) sets have a total dice weight of: 4.25 oz / 120 g
Our Gothica (M2) sets have a total dice weight of: 3.75 oz / 106 g
Our Forge (M3) sets have a total dice weight of: 4.6 oz / 130 g
Our Mythica (M3) sets have a total dice weight of: 4.5 oz / 126 g
Our Dire dice have a weight of: 2 oz / 57 g
A typical polymer set weighs: 1 oz / 28 g
All of our dice sets are about the same size as standard Chessex plastic dice. See the table below for precise measurements.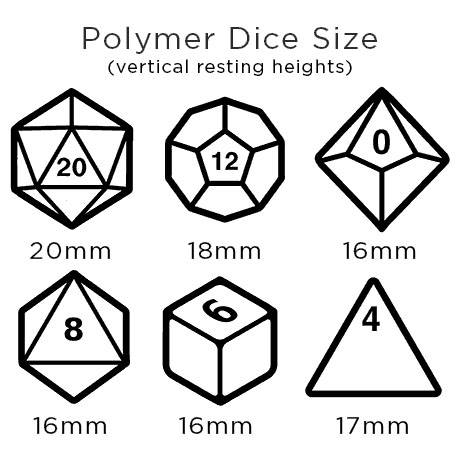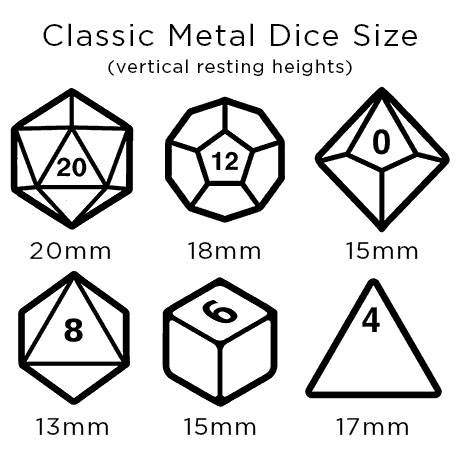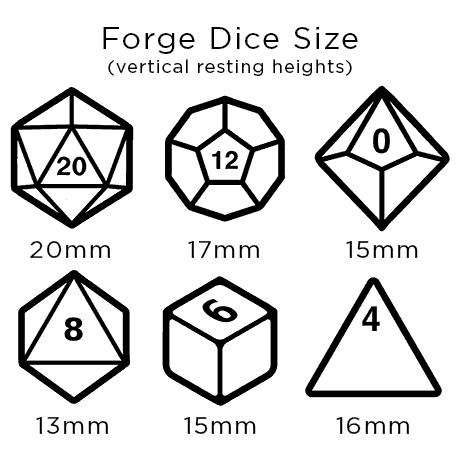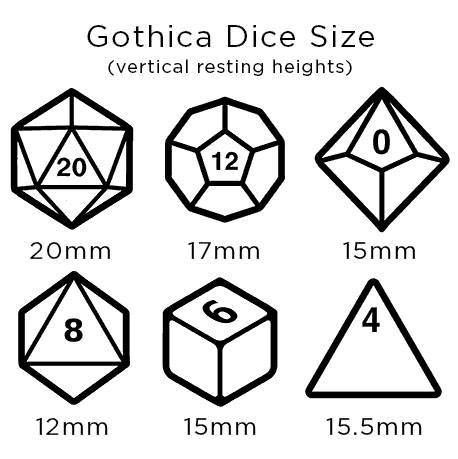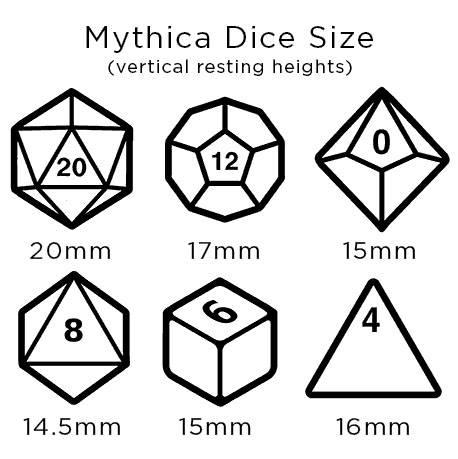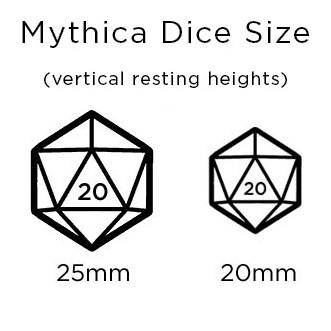 You guessed right, metal dice win this round. Cast zinc is a lot harder than the polymers used to make plastic dice.
In fact, you should carry metal dice in a separate dice case or bag so they don't scratch your polymer dice by tumbling together. More info on our Caring for Metal Dice page.
Materials and Manufacturing Process
Die Hard Metal Dice are made of molten lava injected at high pressure into molds. Actually, change "molten lava" to "non-toxic zinc alloy" and that's about right. After casting they are coated with a finish using electroplating.​
Plastic dice are injection molded, then they are usually put in a tumbling process to polish them.
Metal dice are electroplated in a variety of colors and finishes from highly polished chromes to dull matte satin to the look of raw metal:
Sinister Chrome, our favorite dark Chrome

Battleworn finish is similar to satin / matte

Bright shiny chromes in Gold or Silver

Raw Steel, and Gunmetal finishes are less shiny

Scorched Rainbow, made by flame-anodizing a chrome finish
They may not come in chrome, but plastic dice can also be beautiful. They can be translucent! They can also come in multi-color swirls and can even have glitter embedded, all of which make for interesting effects.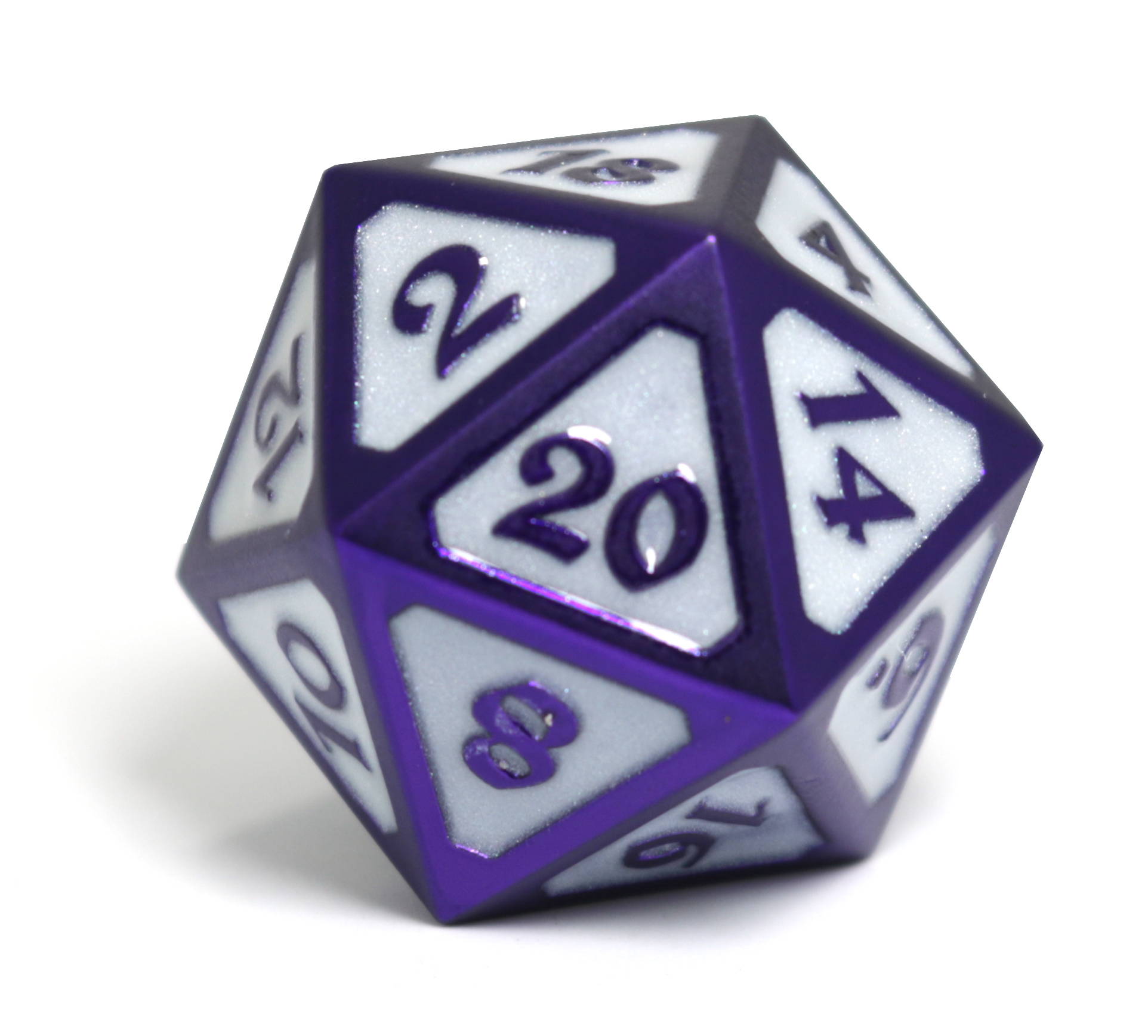 Celestial Harbinger Dire d20 (Satin Finish)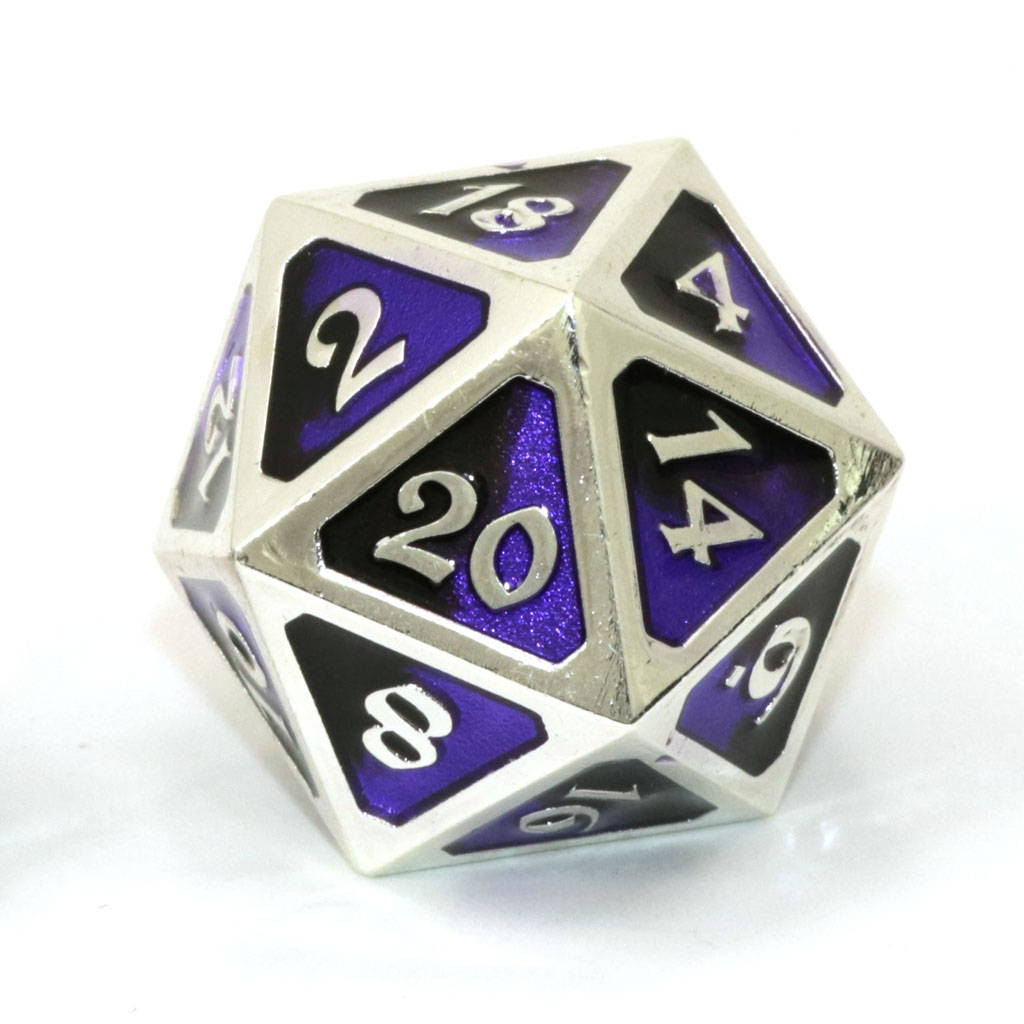 Dark Arts Malice Dire d20 (Shiny Platinum Finish)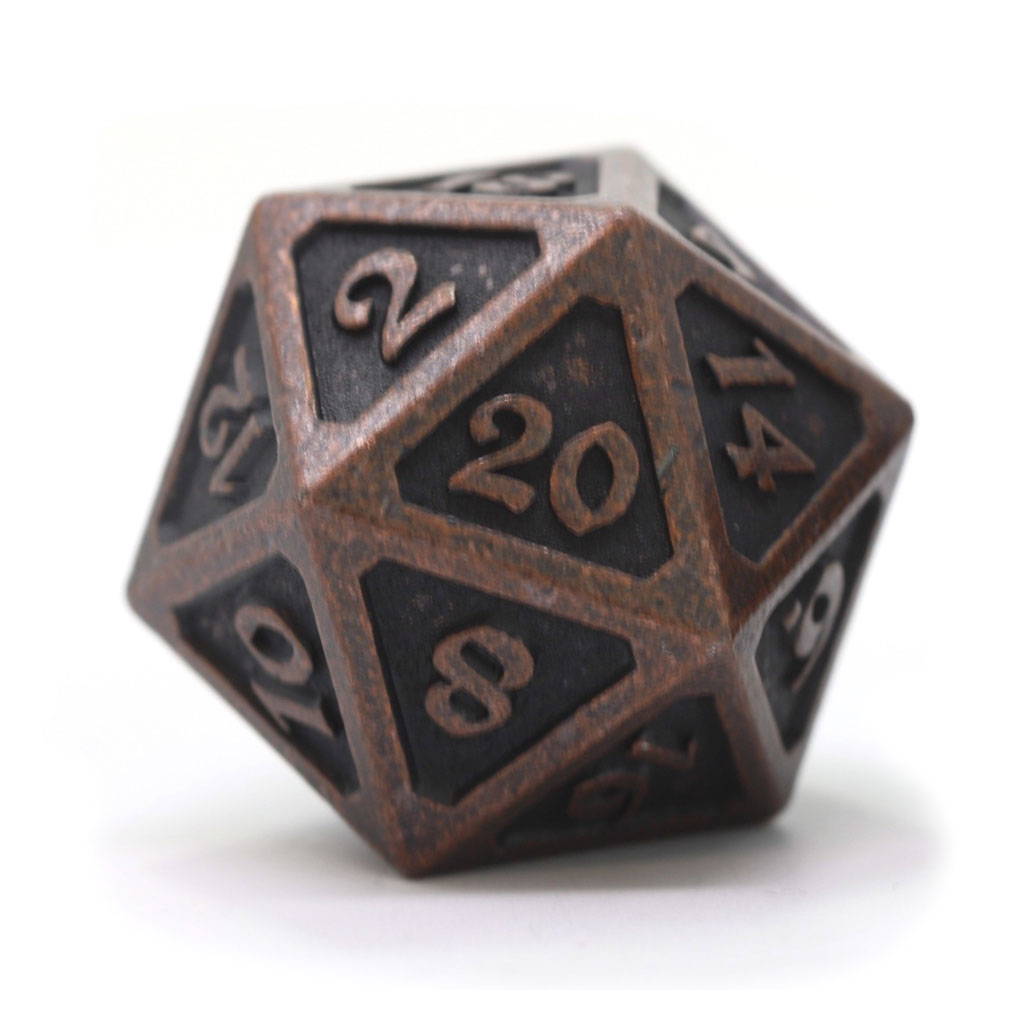 Mythica Dark Copper Dire D20 (Raw Dark Copper Finish)
The term "fair" means there is an equally likely chance of landing on each face. As long as all faces are exactly the same size, and the center of gravity is perfect, any shaped face should result in a fair die.​
During the manufacturing process, sometimes plastic dice are put in a tumbler to round out their rough edges, and this can cause uneven rounding of the faces.​
Metal dice have an advantage: they are much heavier and tend to have more uniform faces. They don't roll as far as plastic, which may seem less random, but rolling or shaking them in your hand is the real source of randomness in both plastic and metal dice.