Did you ever want to roll a d20 as big as a treasure chest, or even dozens of d20s at the same time but your hands couldn't hold them all? Perhaps you too have dreamed of lighting your d6s on fire before casting fireball, but you didn't want to melt your dice? Welcome to the Fungeon of Castle Die Hard! The dungeon scene below is our first online dice throwing room. Have fun!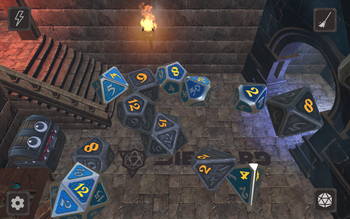 Roll a d20 or bounce dozens of dice around in our new online dice roller!
Roll a D20 online, or take one home with you
Yes, Luke. Feel the power of the dice side. The only thing better than rolling a massive amount of dice is amassing a mountainous dragon hoard of dice in the real world. The dice featured in our virtual dice rollers are all modeled on the uniquely gorgeous designs which we create and sell right here on this very website. Have a peek, and pick out something amazing as a gift to yourself or your best gaming buddies. Give the gift of unexpected beauty and randomness today.