Skip to product information
6 d6 Set with Case - Industrial Battleworn Copper
Regular price $36.95 Sale price $18.95 Sold out
No Compromises
In Quality

100% Satisfaction
Guarantee

Free Shipping
Over $30 in USA
Battleworn Copper is an unpainted finish style that looks like an artifact of ancient workmanship. The contrast of darkness in the recessed faces and the lighter outside surfaces improves their readability.
FEATURES
• Excellent heft, and authoritative feel when rolling
• These dice have softened edges for improved rolling and reduced table damage
• Solid metal, die-cast non-toxic Zinc alloy
• Electroplated with our antiqued Battleworn Copper finish
• Raw and unpainted, as the Maker intended
• Includes six (6) 16mm size 6-sided die
• These dice are rough and tough, combat-ready workhorses

DICE CASE INCLUDED
All our metal sets come with a protective case that can also be used as a small dice tray.
Shipping Policy:
Our About Shipping page has many useful details about international shipping and other in depth info.
Free Shipping within the USA with just $30 in your cart!
Orders are typically processed and shipped within 1-3 business days.
We aren't shipping on Fridays because we've been testing out a 4-day work week here at Castle Die Hard.
Shipping rates will vary based on the size and weight of the item(s) and the destination.
Return Policy:
Didn't like what you got? Just email us and find out why the bards sing songs about our customer service.
We'll make it better, whether you want a refund, a replacement, or a swap with some other artifact from our selection.
Recently Wishlisted
Add on optional description to this section
Great for Necromunda / Shadowrun / Cyberpunk
Love the look of these, check them out!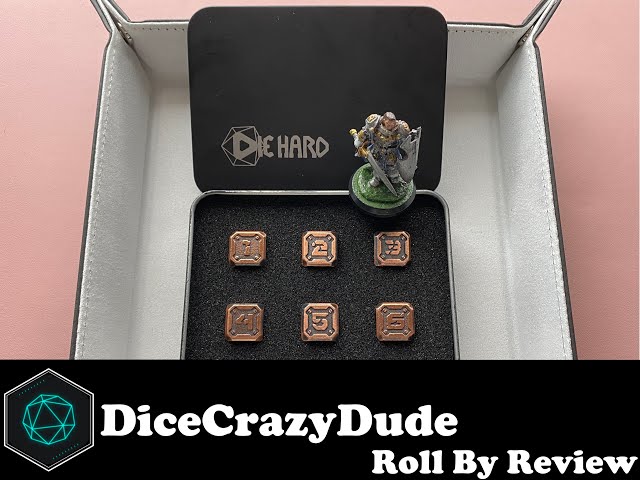 Just what I wanted!
Great Dice! Great Weight!
Excellent product that gets noticed
All the pieces are well made with great detail and noticeable heft. A nice satisfying thunk sounds on the table when these die make their judgment known!
Durable, fun, and easy to read.
My parents play a lot of dice games and love the heft of metal dice, but the small 10mm dice that come in most d6 sets are too small for them to easily read. These dice are 'regular' sized and have good contrast between the numbers and the faces behind them. They are also very durable. Previous metal dice with acrylic coloring have chipped in the dice cup. These are all metal and have held up well over hundreds of games.
Great d6!
These are some fantastic dice, they have a good weight (don't roll them on a glass table) so players know when they have been used behind the screen. Everyone who sees them loves the design and style, a good industrial look with a hint of sci-fi. The padded case adds more to the impact when new players see them come out.
6 d6 Set with Case - Industrial Battleworn Copper
Regular price $36.95 Sale price $18.95